5 easy tips for first time life insurance buyers

Thinking about buying life insurance can be overwhelming – especially when it's your first time. There are a lot of choices out there and many factors to consider. The good news is you don't have to go it alone. Your friends from More Rewards have teamed up with Empire Life to reward you for protecting what matters most.
The goal is to make your insurance shopping experience as painless as possible. To help ensure that you navigate your journey successfully, here are some tips to get you started.
Tip #1: Answering "why do I need life insurance?"
It may seem obvious, but step 1 is answering the question "why do I need life insurance in the first place?" Typically people feel the need to get insured after a major life event like getting married, buying a house, or having a baby. Some people, former girl guides and boy scouts no doubt, simply want to be prepared for the unexpected.
Even if you don't have an immediate need for life insurance, your goal might be to keep your financial options open with a smaller policy today that you can build on down the road. The logic being that your coverage is most affordable the younger and healthier you are. This is key reason that children's life insurance is so popular.
Knowing your "why" will help you down the road when you have to decide what type of life insurance to buy.
Tip #2: Calculate how much coverage you need
Now that you know why you need life insurance, the next step is figuring out how much insurance you need. This is a fairly straightforward process but requires some legwork and university-level math skills (that's a joke, BTW).
You can start by gathering some key personal financial information and estimating how much your loved ones would need to meet current and future financial obligations without you. This includes things like mortgage balances, personal loans, credit card debt, education expenses, and living expenses.

The good news is we have a simple needs analysis tool here. One simple way to think about it is that you probably need enough insurance to cover somewhere between 5x and 10x your current salary.
Tip # 3 Learn the insurance lingo
One thing you'll notice is that life insurance has a language of its own. It may be worth the effort to brush up on the lingo and become familiar with some key terms. A little homework now may help you understand your policy better and make the entire process easier down the road.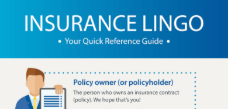 You may be thinking: "First math, and now homework?!" Not to worry, our friends at Empire Life have put together a handy glossary of these terms to help you. It's got pictures!
Tip #4 Figure out what's the best type of life insurance for you
Now that you've crunched the numbers and learned the lingo, you need to think about which type of life insurance policy suits you best. There are two basic categories of life insurance: term insurance and permanent insurance (sometimes called "whole life").

Term insurance is generally less expensive and easier to qualify for because it has a fixed coverage period, say 10 to 20 years after which it can be renewed. It's great for things like covering your mortgage until it's paid off (and it's usually cheaper than mortgage life insurance that the banks offer). If you're curious about how much a 10 or 20 year term policy would cost, you can get a quote on this site and even buy a policy in as little as 15 mins.

Permanent or whole life insurance provides insurance protection for your entire life with premiums that are guaranteed to not increase in addition to a guaranteed minimum coverage amount. Depending on the options you choose, it can increase in value over the years and can even be used as collateral for a loan. It will probably cost more per month than term insurance, and might be harder to qualify for, but because it's guaranteed you can use it to plan your estate.
You need an insurance advisor to help buy permanent life insurance, but the process can be done completely online from the comfort of your laptop. If this sounds like the best option for you, you can start here by finding an advisor to speak to.
Tip #5 Find right the insurance company
The company you choose to give your business to should have a history of financial stability and a reputation for paying claims quickly. Other things to consider are the company's roots in the community and the respect and compassion with which they treat their clients.
More Rewards and Empire Life both believe that Canadians should be able to get the life insurance they need conveniently and affordably. Empire Life has been helping Canadians protect what matters most since 1923 and has been named Life and Health Insurer of the Year for three of past four years.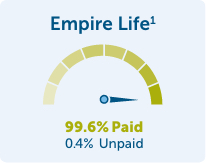 They have a strong track record of paying claims quickly and fairly. In fact, last year they paid over 99.6% of life insurance claims in an average of 3 days. In other words you can count on them to be there when you need them.
1 Empire Life individual life claims are based on statistics obtained from Empire Life's Management Systems for settled claims submitted in 2019.
Hopefully now you'll agree that buying life insurance doesn't have to be difficult. As a More Rewards Member, it can be simple, fast and easy, and you'll earn 10x the More Rewards points on your first year of premiums. It all starts with determining your needs. Click here to get started.